Do you know the 2K's that make a house into a happy home? To those who haven't guessed, the answer is "KIDS" and "KITCHEN".
Yes, you read it right! I said Kids and KITCHEN.
I honestly don't know how to make kids into superheroes, as each kid is unique and is already doing great in their own way. But I can help you with great tips that can transform your small kitchen into a super kitchen.
It is in a small kitchen in my home that I spend most of my time cooking and trying out new recipes. I didn't want my small kitchen to spoil my happiness.
I surfed small kitchen ideas to turn my little kitchen, lavishing. And in this article, I'm going to share few small kitchen ideas that I loved.
Some small kitchen ideas I came up with really worked for me and I love them. So, I thought that I'd share them with everyone.
12 simple but awesome small kitchen ideas
Replace shelves with pull out cupboards
Earlier, the shelves in my kitchen used to take up most of the space. So seeing the containers arranged all around the kitchen gave a clumsy look, making my small kitchen even smaller.
But, this is one of the small kitchen ideas for replacing shelves with pull-out cupboards. This was a savior, which helped me to get rid of that clumsy look.
Pegboard Corner
Yes, pegboards are not only meant for garage organizing but also for the kitchen.
With the various sizes of hooks, one can hang pans, cutting boards, knives, coffee mugs, measuring cups, ladle, tongs, spatulas, whisk, strainer, and what not.
This makes it easier for anyone to access things easily in the kitchen, even if it's their first time in the kitchen.
Message center
The next best one from the list of small kitchen ideas is the "Message Center", which will be much-needed for most of the women out there. Create a place that has a whiteboard or a blackboard, or even sticky notes.
In the message center, you can mention places where one can find the basic essentials for cooking in your kitchen and to do list can also be added. I mean, a kind of blueprint.
Believe me, these small kitchen ideas would be a savior for anyone in your absence.
Dish organizer over the sink
Clean up after food time is a real hassle for many people. From cleaning the dining table, storing or disposing of leftovers, to washing the vessels, there are plenty of things to do. I have a really hard time with vessel washing.
Drying the washed vessels was more time-consuming, the this idea worked for me. I bought an over sink dish drying rack. After dishwashing, I used to arrange the plates and other vessels in it. This helped me to reduce water spillage in my kitchen workspace.
Foldable wall mount table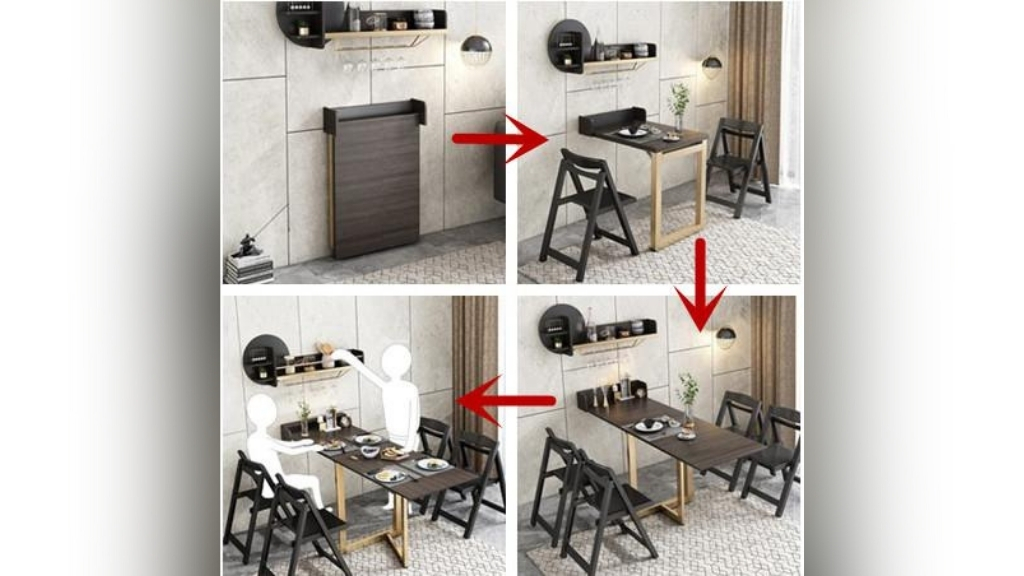 Don't worry if you do not have enough space for a table in your small kitchen. This might cost a little, yet worth it. With the help of a carpenter, set a wall mount foldable table next to the countertop or any other place in your kitchen.
This one in the list of my small kitchen ideas can also be an alternate for a dining table.
A big bag for bags
The things in my kitchen seem to disappear whenever I need them, especially vegetable bags, carry bags, and grocery bags. So, I hung a large bag on a small adhesive hook behind the kitchen door that held a variety of bags of different sizes.
I hope we can use this idea as one of the small kitchen ideas not only to hang bags but also to hang scissors, cleaning brushes, and lighters too.
Double-decker racks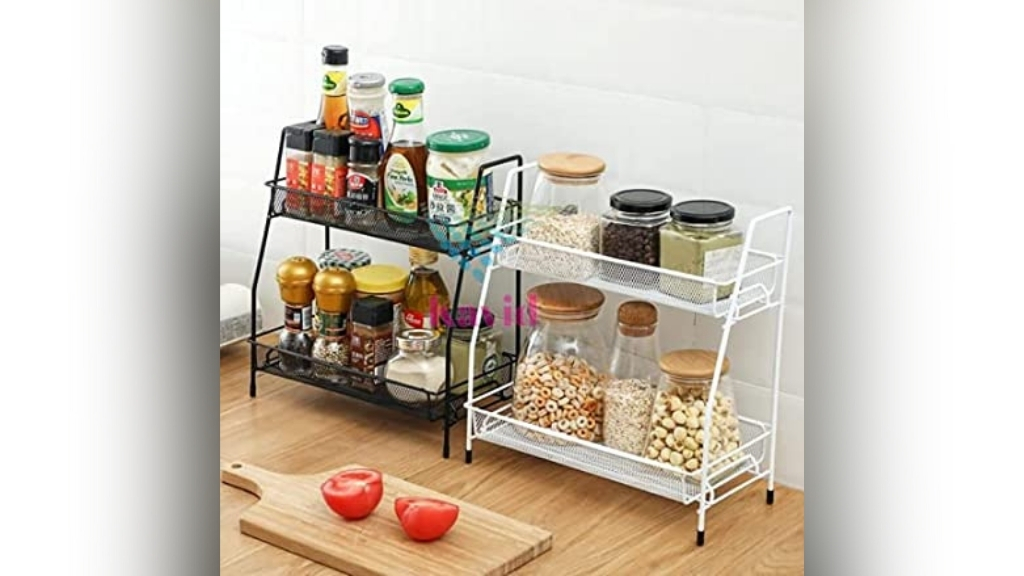 I think many of you know this already, but I'm mentioning this idea to those who don't know about these Double Decker racks as one of the small kitchen ideas.
Maximize your countertop's space by using these kinds of racks. Use your horizontal space vertically. I ordered these racks on Amazon.
Railing hangers
This small kitchen idea can save whole cabinet space. Yes, instead of installing hangers on the wall, fix them on railings to hang oven gloves, hand towels, whisks, and small spoons.
Install floating racks
Building floating racks may sound expensive. But once fixed, this will help a lot by wisely using the space.
That too, if you install such racks on either side above your stove, then you can keep the essential ingredients there, to get things at a stretch.
The best thing about this small kitchen idea is that it doesn't take your countertop space.
Extending your kitchen island
Kitchen islands are common nowadays. Do you have one? If yes, then these ideas that I'm going to tell you are definitely worth trying.
On the sides of your kitchen island, small shelves can be fitted to hold tomato ketchup, spicy sauces, and other condiments.
If you already have shelves and don't want more, then try hangers to hang mugs and spoons.
With wall mount stands, you can even create a miniature kitchen garden on the sides of your kitchen island.
Plant your favorite succulent or some small leafy greens that you can use in your cooking.
Rolling cart for veggies and fruits
Carts like this can be used to store fruits and vegetables. In addition, these carts serve a variety of purposes.
As these carts are compact, these would be ideal for a small kitchen. I bought one such rolling cart from Amazon and whenever I see this, I pat myself for buying this.
These rolling carts can also be a perfect place for storing extra grocery supplies. There are many ways to use this in your home for other rooms as well.
Sliding counter space
What could be a smarter idea than this? I mean, don't worry if you don't have big counter space.
This small kitchen idea can make your small counter space into a bigger one
Using DIY methods or, with the help of a carpenter, build a small sliding wooden counter space.
You can use this extension while chopping vegetables, fruits, meat, and something like that.
Let's wind up
These small kitchen ideas above are a collection of ideas I've come across, and some were the suggestions from my friends. Most of them worked for me and I hope these ideas will be useful to you as well.
It's not important to have something big, it's important to make use of everything with what we have. I hope this article will be of great help to all those who took the time to read it.
"Cooking is at once child's play and adult joy. And cooking done with care is an act of love. May that love starts from where you cook. So make sure you build your kitchen's look posh with simple ideas".
Visit our website to get the best home improvement ideas.